Elvis Lives in Japan
This was our third visit to Japan. It was ramped up, as we knew where to find what we liked. The down side of that is you loose your sense of discovery. You walk around a corner to find a vintage shop, but you already knew it was going to be there. The good side is we made the best use of the two short weeks we were there, delving into the Tokyo vintage districts seeking music, fashion and hoping to stumble onto something kooky.
Street Fashion
It's only 2 years since our last visit, and it's interesting to report that the cowboy look has all but disappeared from vintage fashion. Broadly speaking, vintage shops stock cowboy shirts, but they are the 1970s poly-cotton variety. The full-tilt embroidered H Bar C and Rockmount gems are few and far between.
This winter the vintage shops carried two looks; 1 – the American 'Field and Stream' outdoorsman look and 2 – the preppy, Harvard graduate look. The outdoorsman is heavy weight denim jeans, thick woolen Pendleton shirts and hiking boots. The college look is beige chino trousers, fine Ralph Lauren shirts with a button-down collars and boat shoes! Yikes!
The fashion magazine from Japan, 'Lightning', delves into vintage fashion that originated in America (denim, rockabilly, biker looks) and features what's hot and where to buy it (we purchased a new issue that featured the best vintage shops across Tokyo). Their ads usually feature American Levis, cowboy boots, cowboy shirts etc, but this latest one had ads for boat shoes and beige chinos. Still vintage, still American, but decades removed from mid-century cool.
Walking the districts of Tokyo, the streets are a sea of black jackets and black hair. The Japanese can simply wear anything they want and simply look great. Plus they have access to thousands of fashion stores and shopping is a national pastime. The gals are wearing shorts or short skirts, despite the winter weather, and teaming them with high-heeled boots and long socks that sit above the knee. Thankfully the quilted puffy ski jackets with fluffy collars that were everywhere in 2008 are disappearing.

The scourge of Australian fashion in the 1970s, the ugg boot, is creeping into Tokyo street wear. Black ugg boots with tassles and fold down tops are popular and I'm sure the lambswool stores at Aussie airports would be doing a roaring trade. Once again the Japanese gals look fantastic, even when they are wearing ugg boots.
Once we made it to Yokohama for the Mooneyes Hot Rod Show, it was comforting to see the familiar kustom kulture look, I guess you could call it international, but the Japanese have their own interpretation. Black or denim jeans, slogan or club jacket, black boots, rockabilly chain with a long-length tooled leather wallet and a Brando cap to top it off. Less so is the vintage rockabilly look. The sprinkling of vintage rockabilly cats amongst the hundreds of kustom kulturists were standing out like sore thumbs.

Another look the Japanese cats pull off really well is the Casey Jones look – bib overalls and matching railroad engineer hat, both in blue and white hickory stripe denim. Gals, guys and kids all wear this get-up and it just looks sensational.

Dead Elvis Lives

After outrageous nights on previous visits to Tokyo, we were really primed for a big night at Club Heavy Sick, where Dead Elvis & His One Man Grave (one man band - Netherlands?) was performing his final date on a Japan tour, along with The Fly & His One Man Garbage (one man band - Japan), Bobby's Bar (surf rockabilly trio - Japan), Mondo Ray (2 piece power pop - Germany) and Thee Bats (3 piece garage punk - Japan).

Japanese live music shows always start early, sometimes as early as 6pm. Tonights show started at 7pm, so time was tight as we studied the map on how to make this club. Ditching the subway option, we jumped in a cab and handed the map to the driver, with the location circled, sure looked easy enough. After an efficient start, the cabby started to lose confidence and he kept staring at the map whenever we stopped.

We ended up lost in the back streets of a neighbourhood west of Yoyogi Park, with twisting single lane streets and lots of people out walking their tiny dogs before dinner. He finally stopped and said his only words of English "mistake mistake" and stopped the meter. My stomach tied itself in a knot as I gave up hope of making it to this club on time, if we made it at all. Finally with the help of a GPS and some sign language we found the street of the club, thanked our driver and stared around the busy Shibuya street looking for a doorway or some indication of where Heavy Sick was located.

We followed an alternate looking gal and soon saw a sign for Heavy Sick, a small underground venue. We passed through the foyer where the bar was situated and through another doorway into the band room where The Fly was already in full flight with his performance. We really dug The Fly, he had a tough, electric, rhythmic guitar sound, a bit like the USA band from the 80s, Bodeco. The guys and gals in the club were dancing like crazy, jumping on stage, flinging their limbs and stompin' about.

Next up were Bobby's Bar, a three piece surf rockabilly outfit, who call their music Spookabilly. The instrumental trio featured female Gretsch guitarist Naoya, fez topped 'woodbass' player Shark and female drummer Mirakura. These cats were great. I didn't recognise any of the tunes, they had a slow psycho twang with a cool bass click. Later in the set a burlesque dancer appeared to do a fan dance, which sent the crowd into a 'must get to the front' frenzy.

The DJ kept me dancing between bands, as I made the most to enjoy this crazy night. He was spinning 45s, cool cuts from artists like Webb Pierce and Mouse & The Traps, flipping between rockabilly and garage punk. Two Japanese gals started jiving together and I really craved to dance with a partner, but the language barrier was too steep, so I just bopped about with a few other boppers, who didn't face you when they danced, preferring to face the front, towards the empty stage.

When Dead Elvis came out on stage, the crowd just went nuts, including the staff and the other bands playing at the club, everyone crammed the front of the small room and jumped about like crazy. Dressed in a white 70s jumpsuit open to his waist, this one man band was surreal, very engaging, and extremely funny. He had a bluesy / rockabilly sound, with a double cutaway guitar with bass and vertical snare drums at his feet.

Each song was introduced with funny stories about graveyards and scary monsters and the Japanese audience politely hung off every word, even though they probably didn't understand anything he was saying. He asked for monster suggestions from the audience and after a moment's silence, I yelled out 'Godzilla', wondering why the crowd didn't nominate this monster, as it was a Japanese icon. Only later did I realise that they wouldn't have understood his English question. The set ended with a version of Hasil Adkin's 'She Said' which had everyone singing along to the "woo eee ahh ahh" chorus.
Mooneyes Hot Rod Show
The night before the show, Mooneyes hold an event called 'Just Get Together' held in the same convention centre as the hot rod show, but with the cars and bikes roped off until the morning. Two years back, this was like a low key party where you could mingle with the other international visitors. This year it was jam-packed with some 500 people rocking up from all parts of the world.
We spotted the Aussies early in the night, including Wuzz and Julie from The Beatniks, Tony from Kustom Lane and new friends and faces from Melbourne and Sydney. We opted out of the Dice Magazine party that started after the Get Together, as a trade-off for an early start the following morning, inadvertently missing psychobilly band The Drexen and others.
We turned up to the Mooneyes Hot Rod Custom Show on the Sunday morning well before opening time to be greeted with a queue of 2000 or so people neatly lined up in a lengthy bobby pin shape all along the length of the convention centre and back. Good manners and discipline are held in high regard in Japan, so we respectfully joined the end of the queue and surprisingly once the doors opened, the line calmly filed into the venue in less than 10 minutes. Very impressive.
The Japanese rod and bike builders go over the top on their creations and their passion and precision is evident. The bikes were vintage racers, mild to crazy customs, bobbers, choppers with coffin tanks, panheads, shovelheads and V8s! The rods included rats, stockers, freaked-out customs and a few cars that could have come from Mars. Candy coloured metalflake paint is everywhere and a handful of standouts featured kaleidoscope paintjobs that resembled striped metalflake Mexican blankets. Jaw dropping stuff. Please check the video.
One of my missions this weekend was to speak to Suzanne Williams, hot rodder, long time artist and illustrator from the 1960s, and wife of Robt. Williams. I'm so glad to have made the effort. Suzanne is one of not-enough women drivers and builders who grace this scene as they are, not playing any dressed-up passenger role, but staying down-to-earth and sticking with it for the love of the vehicles, the art and the culture.

Robt. Williams should be known to you all, low brow art originator from the 1960s, psychedelic hot rod culture oil painter, publisher, founder of Juxtapoz magazine, the list goes on. In 1997 I was lucky enough to meet Robert Williams at an art gallery in San Francisco, where he was launching his new book, Malicious Resplendence. Previously I had only seen Williams' artwork in books and print, but on this night the gallery displayed a collection of his large format original oil paintings. To see these works of art up close and gilt framed was breathtaking.
This year Mooneyes created a special Tribute to Robert and Suzanne Williams that started with both of their cars from the USA - Robert's 1932 Ford Roadster and Suzanne's 1934 Ford Tudor, and opened into an exhibition of wild creations by current kustom artists paying tribute to Robt. Williams surrealistic style. As well as the art display, there was large collection of pinstripe and kustom artists displaying and selling their creations. One artist was Wildman, who created the pinstripe design for the GreazeFest tshirt in 2010.

Bands that performed during the show included Jackie & The Cedrics, who performed a blistering set of surf tunes and had super cool stage moves to match. Bass player for the Cedrics is the mysterious Rockin' Jelly Bean, whose day job is being a kustom artist in his design studio and store Erosty Pop in Harajuku. Other bands included three piece 60s gal group The Secrets and 60s cover band Sukima-Sangyo, who did songs such as Purple Haze and Sunshine of Your Love.

Halfway through the day, we ventured out to the only food outlet, a 7-11 store at the end of the convention centre. 13,000 people at the show and only one food store, but thanks to the Japanese courtesy and efficiency, it worked. The little store did great business this day with a flood of famished people buying armfuls up beer, sushi and katsu-sando (crumbed pork sandwiches with spicy mustard - delicious).

The show was bigger than our previous visit and overwhelming in size and quality. 250 hot rods, 650 motorbikes, 250 vendor stalls, 40 pinstripers, scale models, pushies, the Williams tribute and a Motorcycle Fuel Tank Paint Contest. Some 13,000 visitors came through the door.

It took seven hours to navigate the entire show and we still could have lingered longer at the displays. We had no time to check the carpark, but we were happy just to watch the bikes and cars blapping around the streets surrounding the convention centre. There was a palpable sense of excitement in the air and it was sad to see the day come to a close.
I applaud Shige Suganuma and his crew at Mooneyes for putting on another excellent hot rod show and setting a high standard for hot rod shows all around the world. Next year will be the 20th anniversary and my mind spins at what the Mooneyes crew have in store to celebrate the milestone.

Sayonara!

Lori Lee o-[*_*]-o
www.robot.com.au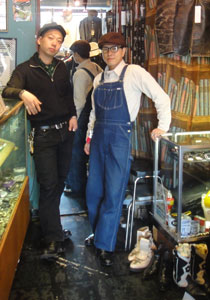 Mori & friend at Attractions in Harajuku, my favourite rocker store in Tokyo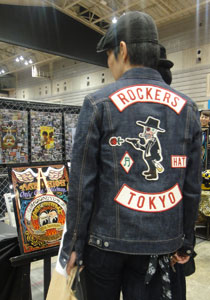 Rockers at the Mooneyes show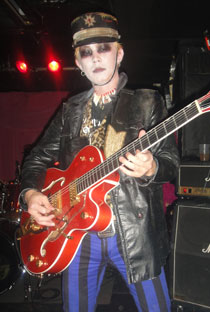 Naoya from Bobby's Bar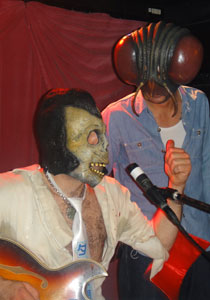 The Fly drops in on Dead Elvis's show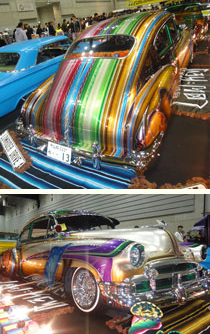 Kandy coloured dream machines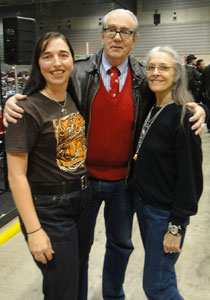 Lori Lee, Robt & Suzanne Williams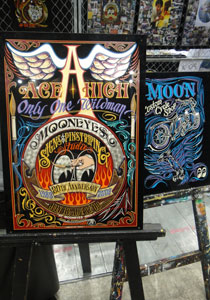 Some of Wildman's kustom art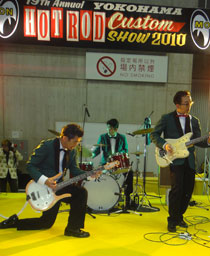 Jackie & The Cedrics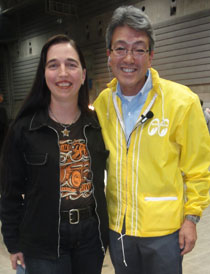 Lori Lee & Shige Suganuma